IONITHERMIE - An Introduction
For people who want to shrink in size but dont want to work at it! Perhaps there's part of your body that has always bugged you, and you would like it tightened up. This is when our Ionithermie treatments would be right for you
Cheek Lift

This covers both the tummy and bottom areas. Equivalent to 600 sit-ups AND 600 squats.

Bust Lift

Aimed at improving the overall shape of the bust and décolleté, this treatment also targets the upper arms.

Hip and Thigh Sculpture

Aimed at targeting those stubborn saddle bags! This treatment is designed for people who have heavy legs and /or a pear-shaped figure. Equivalent to 800 squats.

Tummy Trim

An intensive treatment targeting loss of tone and soft fat around the midriff area. Can include arms. Equivalent to 800 sit-ups.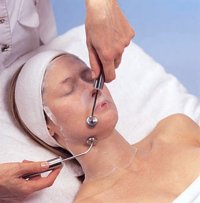 Collagen Youth Facial
Our 100% pure collagen mask will not only penetrate the collagen far deeper into the epidermis than any other method available, but will also plump and replenish the skin AS WELL AS toning and firming the facial muscles with a non-surgical face-lift.
It will diminish fine lines & wrinkles by supplying the skin with essential amino acids and moisture, leaving the skin radiant and glowing with youth & vitality. Very popular! A sheer indulgence treatment for ultimate relaxation.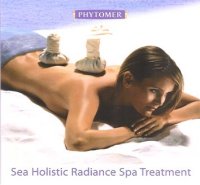 The Sea Holistic Spa Treatment
This treatment is perfect for reducing stress. It uses minute muscle manipulation techniques used in the East for centuries, coupled with heated linen bags of sea lavender, salts and oils to balm and soothe the nervous system.
The Sea Holistic Radiance Spa Treatment designed for the face & body, brings about a unique moment of relaxation and tranquillity whilst leaving the skin exquisitely silky & smooth.
The face is cleansed, toned, exfoliated and a cleansing mask applied before a Moisturising Prestige Mask is applied for maximum re-hydration. The body is prepared with a toning body scrub of marine salt crystals, natural plant extracts and oils before it is stretched and worked with light Thai massage techniques from toe to head.
Hot linen bags of sea lavender and oils are gently massaged into the front and back of the body whilst the Thai massage works on energy points and sen lines. Stress within the body is released with these gentle movements, whilst the aroma of the linen bolus leaves a sense of peace and tranquillity.
A truly relaxing experience lasting 1 hour 15 mins. Beneficial to both men and women who have stressful jobs or need to calm down from a stressful situation. Cost is £65.00 per treatment.
How Ionithermie Works
Forget spending hours sweating in the gym – try an easier way to tone and trim your trouble spots with Ionithermie's range of face and body treatments, now available at The Barn Clinic in Welwyn Garden City.
Each treatment moves the muscle group 800 times!! Therefore , the Cheek Lift is equivalent to 800 sit ups AND 800 squats!!
As Kylie made eyes at the camera in her 2000 smash hit, Spinning Around, it wasn't her face we were all looking at – nobody could take their eyes off how fabulous those gold hot pants looked. But it was more a case of what was in the petite pants than the shiny shorts themselves.
So how does 36-year old Kylie keep such a delightful derriere in shape? It is rumoured that the Aussie songstress is in fact a huge fan of body toning treatment, Ionithermie – an electrical system that can tone, refine and reshape problem areas.
Ionithermie treatments are excellent for all those who suffer with bloat, who have jobs where they stand all day, have poor circulation, men who have the "beer belly" effect and anyone who has cellulite, and those who wish to enhance the effects of their slimming programme – practically everybody falls into one of these categories!
Ionithermie History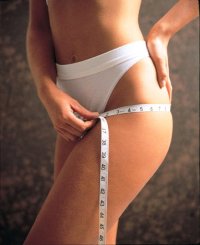 Ionithermie was developed in France by biochemist Oliver Fouche in 1979, following six years of research into the benefits of electrical stimuli on the body's skin and muscle tone. The treatment came to our shores in 1983 and was an instant hit. Today, the machine has been fine-tuned to become a worldwide phenomenon, with more than 400 salons using Ionithermie in the UK alone, and even the cruise ships administering the top class treatment out on the ocean waves.
The basis behind Ionithermie is the use of two electrical stimuli: faradic & galvanic waves. The galvanic stimulus pushes into the skin 20 times deeper than manual treatments, emulsifying fats and toxins – thus breaking them down so the body can get rid of them and diminishing the appearance of cellulite. The effect stays in the body for 36-48 hours when it is still working.
The faradic stimulus pulls and relaxes – thus tones and firms muscles and pumps circulation & lymphatic system. As this can be used with spot reduction, specific muscle groups are targeted with the different types of treatment.
Results can be expected after just one treatment, further improving with each subsequent session. A course of 5 is recommended initially and we then suggest a monthly maintenance treatment and good homecare regime to keep up the results. Each treatment is £65.00 and includes Thermeographic scanning which indicates areas of congestion in the abdominal area.
Ionithermie Treatment
Each session takes a total of 75 minutes, with 30 minutes of alternating faradic and galvanic current being pulsed through the body. This is where the body is worked to the equivalent of 600 sit ups AND 600 squats!
The body is prepared with an apricot and lemon verbena scrub, which is loaded with Vitamin C. A toner with vitamins A,E & H is then applied to the body to degrease and tone it. Finally, a fat-busting mixture is rubbed in which stimulates lipase – an enzyme which breaks down fat.
The body is then covered with gauze, on which warm marine clay is thickly spread to conduct the galvanic current. Pine and cypress aroma oils in the clay help to drain toxins and promote inch loss; a scoop of algae can be added to stimulate the thyroid, but only if the client doesn't have a shellfish or iodine allergy. Ionithermie's unique probes are inserted into the clay, which allows the treatment to work both the front and back of the body.
The clay works on balancing hormones and is very uplifting, whilst the algae has 2 very active forms of seaweed – Laminaria which stimulates thyroid & metabolism, and Fucus which activates sweat glands (very cleansing).
A soothing back massage is given before the clay and gauze are removed, which adds to the total relaxing experience.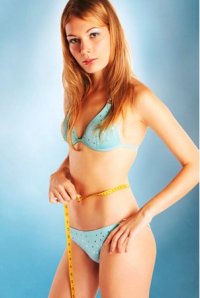 Each session is really 5 treatments wrapped into one – a body wrap + muscle toning + back massage + lymphatic drainage + oils & relaxation. The galvanic land faradic stimuli are excellent for breaking up cellulite, leaving the body toned with firmer muscle definition.
Correspondingly, there are 5 different benefits to the body – Inch loss, reduction of cellulite, firmer muscle tone, detoxification & mineralization, relaxation.
The results of an Ionithermie treatment can be greatly boosted with a good homecare regime, for which the Barn Clinic recommends the Phytomer range, which is in the top 8% of products in the world for body contouring. As such, it is the perfect accompaniment to follow up an Ionithermie treatment.
Contraindications to the treatment include any electrical implants, such as pacemakers, any metal pins and plates, iodine and shellfish allergies, extreme cases of diabetes, cancer, pregnancy or thrombosis.
With our expertise in detox, we have observed that can work much better when you are not drinking alcohol or tea, have 2lt of good water daily, and even better when eliminating bread and dairy.